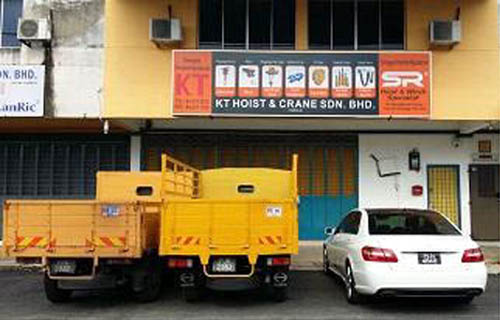 KT Hoist & Crane Sdn. Bhd. was established in year 2006 as a leading supplier of hoist & crane products/services as well as material handling equipment. We mainly supply Electric Overhead Crane, Electric Chain Hoist, Electric Wire Rope Hoist, Goods Hoist, Chain Block, Electric Winch, Monorail Hoist, Double Girder Hoist etc.
Our headquarter located in Butterworth, Penang; with another branch operated in Ipoh, Perak to serve the market needs nationwide. 
Our comprehensive product range renders us being one of the most complete players in the industry.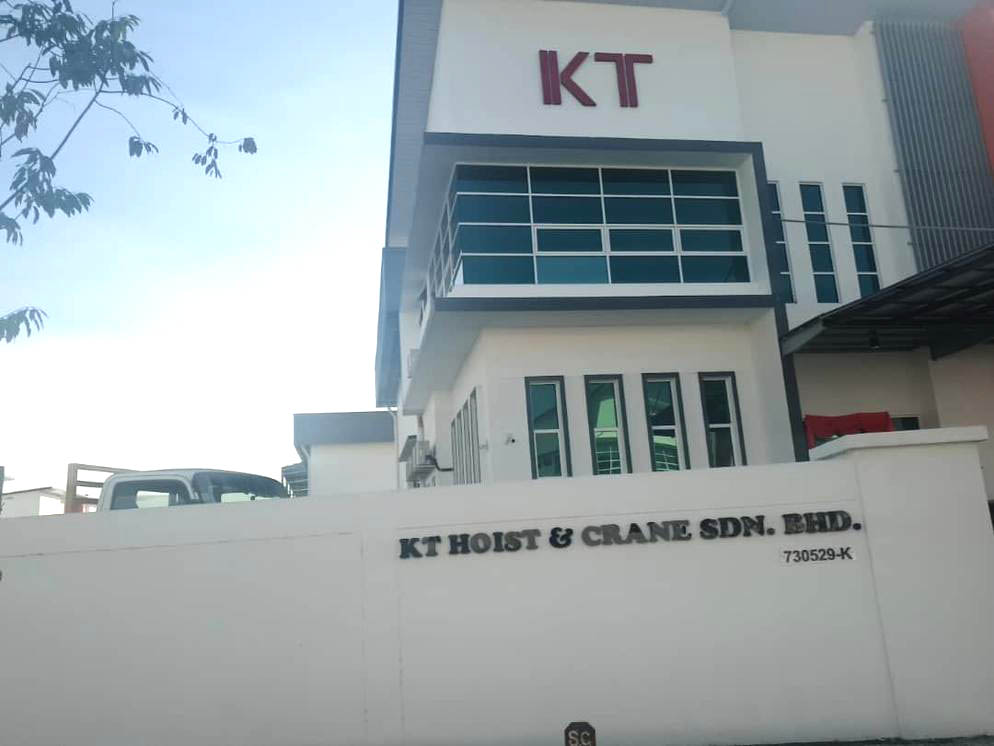 HQ (PENANG):
ADD: 8, Lorong Industri Sungai Lokan 1, Taman Industri Sungai Lokan, 13800 Butterworth, Pulau Pinang.
TEL: 04-3581133
TEL: 04-3581885
TEL: 04-3581363
FAX: 04-3581221
EMAIL: ktcrane2233@gmail.com
Branch (IPOH):
ADD: No.57, Persiaran Kelebang, Kawasan Perusahaan IGB, Off Jalan Kuala Kangsar, 31200 Ipoh, Perak.
TEL: 05-292 2033
FAX: 05-292 3033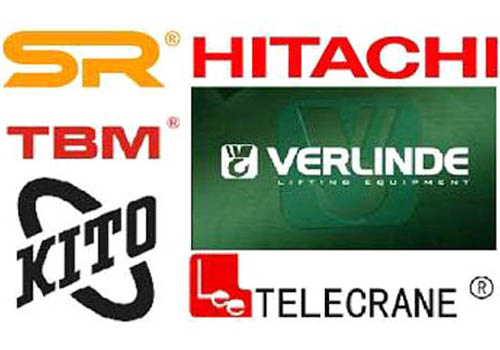 We also are involve in selling products for several hoist & crane companies including HITACHI, SR, KITO, TBM, VERLINDE, TELECRANE and AD. 

We sell wide range of their products with competitive rate, flexible service contracts and warranty work on most major brands.
●  Electric Overhead Crane (New & Re-Cond)
●  Electric Chain & Wirerope Hoist (New & Re-Cond)
●  Vahle & Wampfler Cable Drum
●  Vahle & Wampfler Conductor System
●  Control, Flat & Round Cables
●  Wire Rope, Webbing Sling & Industrial Chain
●  Remote Control Operation
●  Palm Oil Crane
●  Modification & Up-Grading of Existing System
●  Material Handling Equipment (HPT, Stacker, Dock Leveler & Etc.)
●  PMA Approval For Old Crane & Hoist
●  Goods Hoist